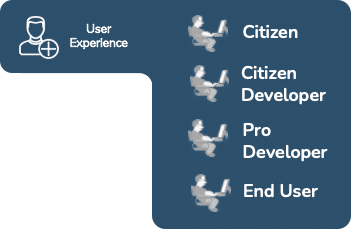 User Experience (UX) is an important aspect of any software development project, including those undertaken by citizen developers. UX is concerned with how users interact with a software application, and how they perceive the overall experience of using the application. A well-designed UX can make the difference between an application that is easy and pleasant to use, and one that is frustrating and difficult to navigate.
For citizens and citizen developers and IT Professionals, UX is particularly important for a few reasons. First, they are often not trained in software development or UX design, so they may not be aware of best practices or have a deep understanding of user behavior. As a result, they may be more likely to make design decisions that are not user-friendly or that create unnecessary barriers to entry.
Mostly building applications for users within their own organization, rather than for the general public UX is important because the users of the application are likely to be colleagues or coworkers who have a vested interest in the success of the application. A poorly designed application can create frustration and resentment among users, while a well-designed application can help to increase productivity and satisfaction.
Finally, low-code platforms provide pre-built templates and other design elements that make it easier to build applications quickly, they may also limit the flexibility of the UX design. Citizens, Citizen developers, and IT Professionals need to be aware of  UX that meets the needs of their users and should prioritize UX design in their development projects to ensure that the applications they build are user-friendly, effective, and meet the needs of their users.
Consistent User Experience for Users, Citizen Developers and IT Professionals
Simplifier using UI5 Framework and therefore provides Fiori Design Guidelines to achieve a consistent User Experience on all Devices.