The Simplifier design guide helps to easily achieve multi-experiences in your enterprise apps
Great UX for developers, users, and customers
A simple UX library, designed to get complex enterprise apps done.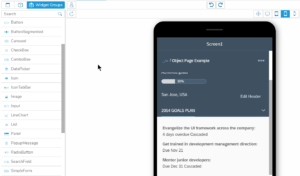 Reusable Layouts, Templates and UX Elements
Based on SAP Fiori: proven, flexible and modern enterprise-grade UX
From the Idea to App
Creating new Ideas for digitizing your enterprise is fun, but most of the actual design processes need a lot of manual groundwork before you can dig into realization.
Using Simplifier as design tool you will enjoy the following benefits
Design as easy as Powerpoint
Realtime Collaboration – Design together with your Stakeholder
Testing the Design on any device
Using the results from your Workshop directly for App Buliding without rebuild it from the scratch
Designing like Powerpoint
Using our widget groups, the design of a new app is almost easy as building slides with powerpoint.
Realtime Collaboration
In your Design Workshop all participants can logon into the Application Editor / UI Designer to collaboration and design together even form remote workstation. For more information, read here.
Testing on any device
You can simple test the layout on any device, by subscribing the design time via QR Code in realtime see Live Preview.